Dubrovnik, Croatia
A Day in Dubrovnik, Croatia
A days was not nearly enough time to fully explore and appreciate all the things Dubrovnik had to offer.
We travelled 9 hours from Toronto to Italy, got on a boat, went to sleep, woke up in Croatia. In all honesty, I didn't know much about Croatia and it wasn't in my top 5 places I needed to visit… that was, until I got there.
The first stop on our cruise was Dubrovnik, which we had booked a Game of Thrones tour for! If you saw my last Friday Favorites, you'd know I'm a big fan.
My mom and I stood out on one of the top decks as the boat was heading to the port and I was absolutely astonished by the incredible views around us. If you watched my vlog, I was practically screaming. We stood their admiring the surroundings until we docked and then we proceeded to head to the theater where our tour was meeting.
Dubrovnik is a southern city in Croatia and is known for it's 'Old Town', which is where we spent the rest of our afternoon once the tour finished… but I'm getting ahead of myself!
Our first stop of the tour was Fort Lovrijenac (Fort of St. Lawrence), it was quite the hike up there with around 200 steps!
200 steps on an extremely hot day… CHALLENGING. Worth it, but tough. I also had no idea I'd be doing another 1,000 steps later in the day…
The view from the top of Fort of St. Lawrence was STUNNING (I'll be saying that a lot in today's blog post). We went around all of the grounds as our tour guide showed photos of scenes that took place in each spot of the fortress. As you can see, I took a photo in the same hall where Littlefinger was seen walking towards Cersei in one of the previous seasons (too cool hahah)!
Old Town Dubrovnik
As I said earlier, we spent a lot of time in the Old Town. It was so uniquely beautiful and everywhere I turned I felt like I was in Game of Thrones! I'd say the coolest part of the tour was getting to see the 'Walk of Shame' steps, a very famous scene in the show.
I'd say the coolest part of the tour was getting to see the 'Walk of Shame' steps, a very famous scene in the show. We got to see the steps where Cersei started her nude walk through the town, as well as a bunch of other areas that were shown in that scene.
Walls of Dubrovnik
After exploring the Old Town, we were given tickets to walk the walls of Dubrovnik. Thankfully I was unexpectedly prepared by wearing white sneakers, because I had no idea what I was in for.
The walls of Dubrovnik were originally intended to protect the city that date back to the 14th century. It's absolutely incredible how well preserved they are and how many tourists come to walk these walls today. There are around 1,100 stairs if you walk around the whole thing, which I recommend if you're looking to get views of the entire city. It can get pretty steep at times so just keep that in mind if you plan on doing it!
Game of Thrones fans… the view of the city from these walls is actually the view of "Kings Landing" in the show, which is super cool!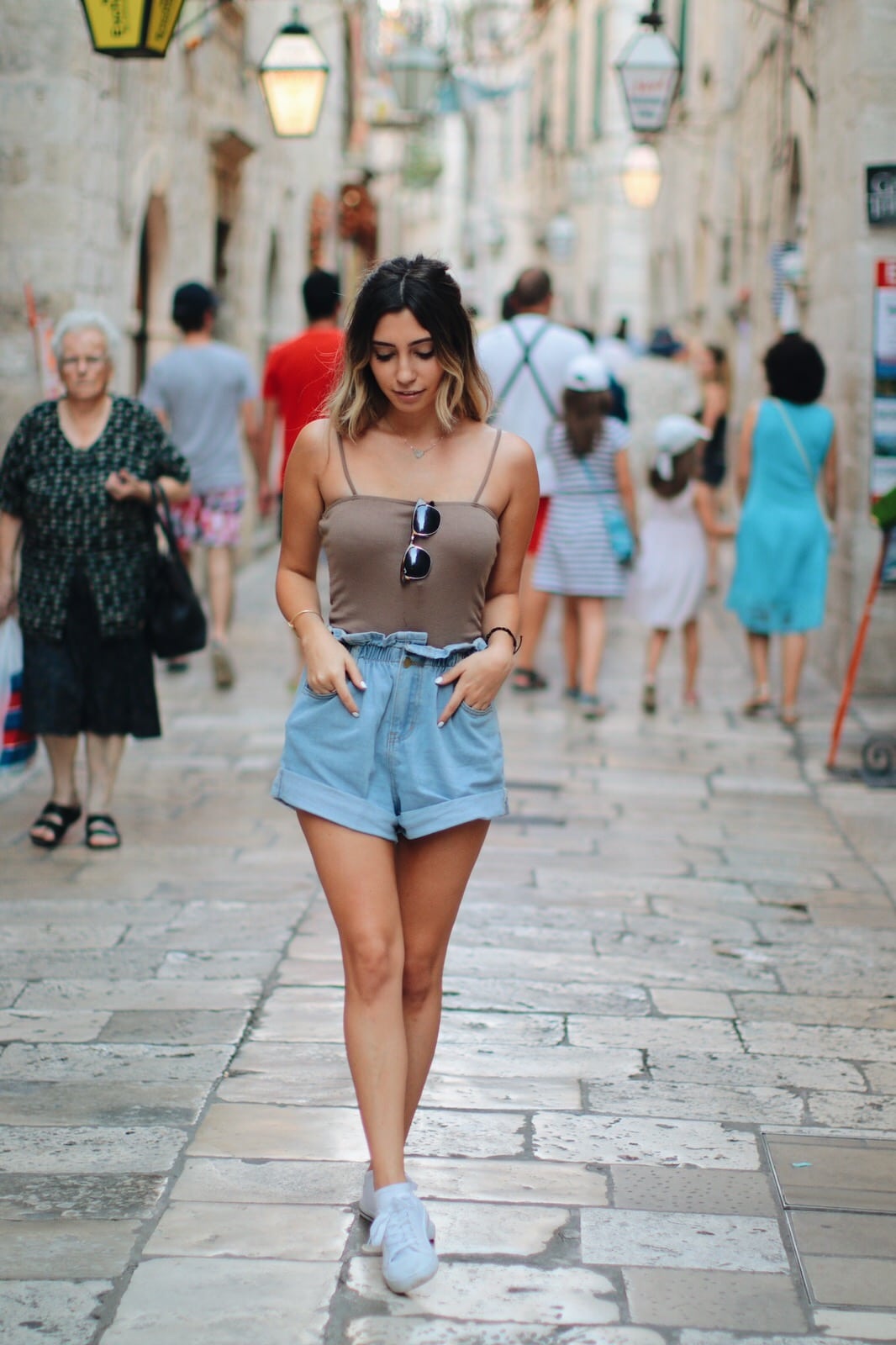 Who doesn't love a little OOTD am I right ladies!?
It was a seriously hot day, probably around 95 degrees so I went for a really casual look.
Bodysuit – Forever 21
Shorts – Peppermayo
Sneakers – Lulu's
Sunglasses – Rayban
If you look reaaaaally closely… you can see all my little sweat marks through my bodysuit. Not sure why I'm exposing myself like this but there ya go.
We spent the rest of our times walking around Old Town, going into all the different shops! Unfortunately we had to get back on the bus to make it to our boat in time, so we didn't get to explore much further. It was absolutely beautiful and I already know I'm going to need to go back in the future to experience more of it!
Our next stop was Kotor, Montenegro… but you'll see that later! 😉 xo