Friday Favorites #4
Alright alright alright, I know I said it last time… but this time I mean it… I'M BACK! Every other Friday! I promise!!!
A lot has happened over the last few weeks and I'm looking forward to updating you guys on all my favorite things! If you've missed seeing these in your inbox, let me know in the comments so I can make sure I 100% post these haha!
Hope you've all been well lately and LET'S GET INTO IT!
Favorite Items of the Week
Etude House: Tint My Brows
THIS PRODUCT IS SO AWESOME!
I've never tried any kind of eyebrow tint/stain/whatever you want to call it before, but I saw some reviews online and decided to purchase it on Amazon! It's basically a peel off eyebrow "tattoo" that's supposed to last up to a week. I kind of hate having to fill in my eyebrows everyday so I thought I'd give it a try!
I got mine in the shade 'brown' but when you apply it to your eyebrows, it looks completely black (which lowkey scared the crap out of me). After 2 hours you can peel it off and underneath is your now perfectly filled in eyebrows!I was SUPER impressed with how they turned out and will most definitely be applying this every week to make sure my brows are on fleek (do people still say that? I don't know).
I am no stranger to a good matcha latte, I actually used to be quite addicted to them a few years back.
I ended up gaining around 15 pounds in that time of my life so I unfortunately had to cut them out of my diet. Now we're here, 2017, and I'm slowly rediscovering my love for these delicious drinks.
I've been going out to work at more coffee shops lately and I find myself always ordering a warm matcha latte with almond milk (besides the taste, they also look very aesthetically pleasing). I believe that since I now get it with almond milk instead of whole milk, I won't going to end up 15 pounds heavier again… we can hope!
I will say, it's tough to find the PERFECT matcha latte. Some places make them too sweet, some too bitter, but once you find the perfect one it's hard to stop ordering them. I'm not mad about it though.
What I'm Watching
The Leftovers
This kind of breaks my heart to write about because we JUST finished watching the series finale the other night… still not over it.
Such an incredible show and definitely one of my favorites.
It's written by one of the guys who worked on LOST (one of my all time favorite shows) so of course that means it's absolutely crazy and gets pretty confusing at times.
Basically 2% of the world just disappears one day and it tells the story of what happened after they departed. Such an interesting idea for a show and they really played it out well throughout the 3 seasons. Something I found really unique was that there was a huge time jump at the start of each season. That definitely made it more confusing but by the end, you're absolutely hooked on the characters and each storyline.
It's on HBO and I'd highly recommend watching if you're into Sci-Fi that still has a love story throughout it!
Beacon | Echo Park
If you know me at all, you know how much I love good food. Recently my boyfriend & I discovered that Echo Park had a cute little cafe/restaurant where you could eat by the water, so naturally we wanted to check it out!
It was so nice there and even better, they had DELICIOUS food! They had some really good avocado toast options but I opted for their 'veggie + avo sandwich'. It had marinated tomatoes, kale, and avocados on herb toasted levain bread! Seriously so flavorful and I also got a side of garlic mayo… because who doesn't love that some garlic mayo??
Anyways, I really enjoyed the experience and loved that it was right by the water. Would definitely recommend checking it out for a quick bite if you're in the area!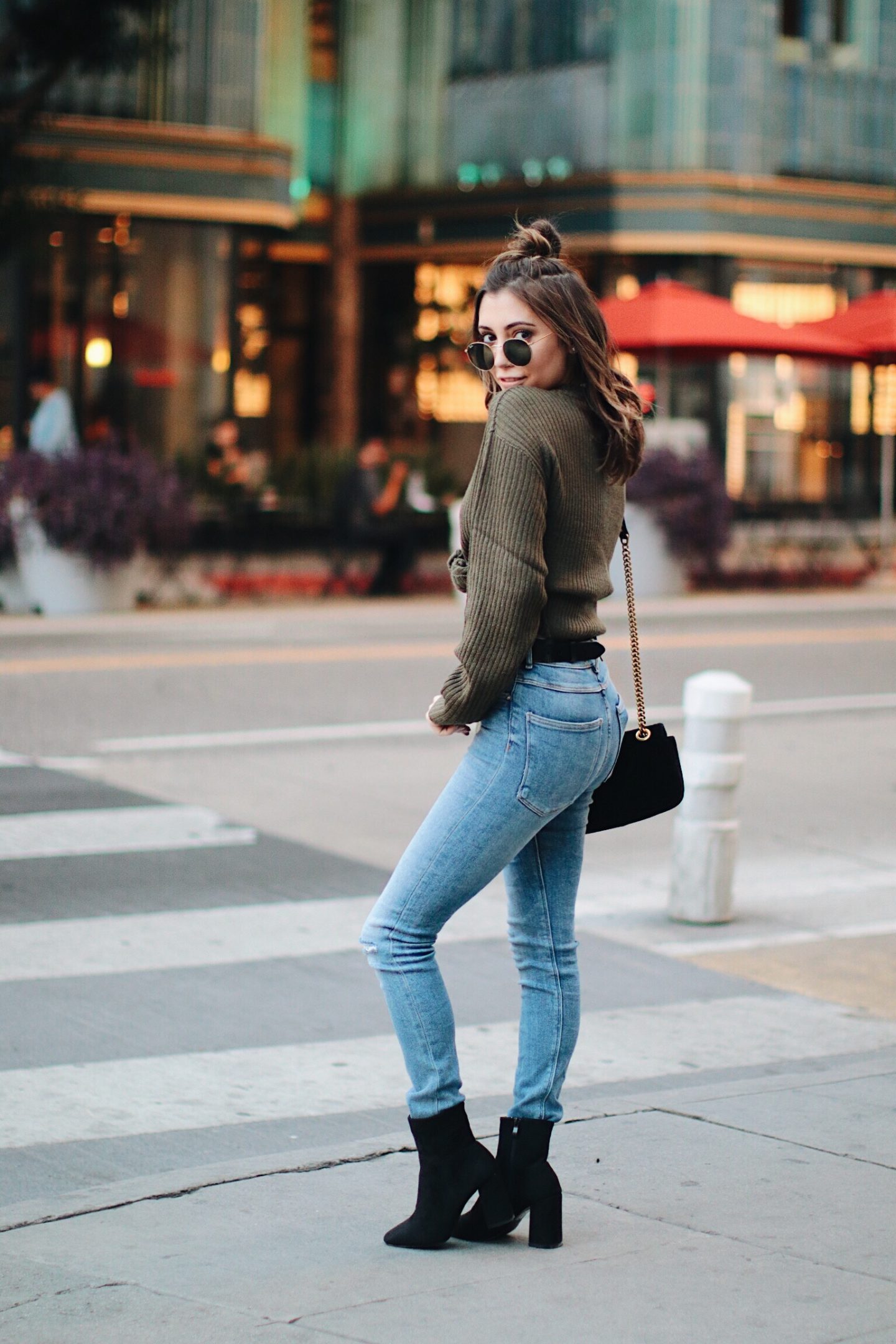 Such a cute early fall outfit, if I do say so myself.
Let's keep in mind that I live in Los Angeles where it's been 90+ degrees all month… but I still want to wear fall clothes!!! Fall fashion is by far my favorite and I'm just waiting for LA to cool down so I can finally wear my fall stuff!
Sweater | Jeans | Topshop | Booties
Bag | Sunglasses
I absolutely love this olive colored sweater, it's honestly so cozy and warm. I knotted it in the front which I thought looked really good with my high rise denim jeans! I'm definitely going to be wearing this sweater a ton through the fall and winter season. Since the boots have a chunky heel, they're really easy to walk in & don't usually hurt my feet (definitely an essential for any shoe I'm choosing to wear). Overall, I just really love this outfit. Simple but put together!
And there it was, the official comeback for my Friday favorites!
Really hope you guys enjoyed a few of my fave things over the last few weeks, so much more to share with you but I'll have to include that next time!! Don't forget to sign up for the newsletter while you're here and check out my previous Friday fave posts! :)