Pumpkin Patch Date
Visiting a local pumpkin patch is an absolute essential to the Fall season (if you're doing it right).
My boyfriend and I went over to one of the trendiest LA pumpkin patches we could find. From the cute tents to the CASTLE made out of pumpkins, we were most definitely not disappointed.
We spent over 2 hours at this pumpkin patch enjoying all there was to offer (well, the free stuff). They did offer some fun slides and bounce houses for kids that you can pay for in their "Bone Bucks", but we thought we might be a little too old for that unfortunately.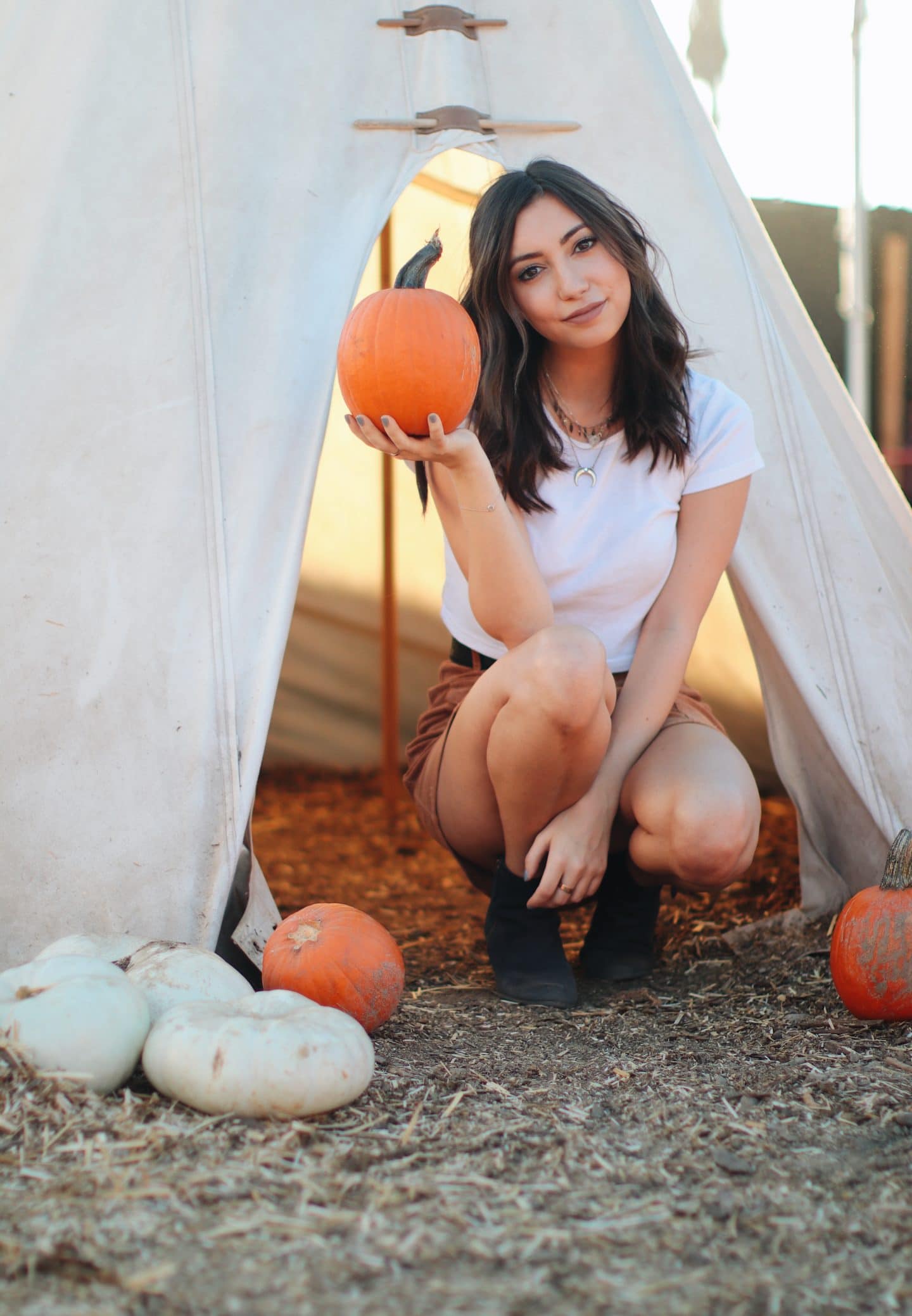 If you want to take cool pictures, I highly suggest going around sunset… you can get really cool pictures with the light!
Fall is all about pumpkin patches, halloweentown movies, fuzzy blankets, warm drinks, etc (at least to me). Everything in Fall is always so much more fun with someone to cuddle up with and I think going to a Pumpkin Patch with a significant other is such a great date!
It's such a great chance to be goofy together! Once you try to take a photo at a pumpkin patch, you realize how incredibly awkward it is to *try*posing with a pumpkin.
OUTFIT DETAILS
Hat | Shirt | Skirt | Shoes | Jean Jacket | Belt
I loved my outfit I wore this day! It's pretty simple but the colors just scream Fall to me. It's pretty hot in Los Angeles right now so I had to wear something a little more fitted to the weather. I brought along my jean jacket just incase it got a little cooler once the sun went down, which ended up coming in handy. I loved how well my hat and skirt matched, I felt like it really brought everything together!
Pumpkin Patch Date SUCCESS!
We seriously had SO much fun (despite all the sneezing from the hay in the air) and I'm already excited for next year's pumpkin patch adventure! We bought home an adorable little pumpkin and carved it into a vampire pumpkin! We also baked the seeds and now have a delicious fall treat to snack on! You really can't go wrong with that! 🙂
If you went to a pumpkin patch, let me know in the comments!!! xo