I went to EGYPT
You guys… I went to freaking EGYPT!
Never in a million years did I think I'd ever have the opportunity to visit the incredible ancient landmarks like the pyramids, or the sphinx, but it actually happened. On top of everything, I was with my entire family. I'm the luckiest girl in the world & I can't believe I get to share this with you guys!
Toronto to Cairo
After our 10 hour flight, we were finally in Egypt! We had a day to rest up and then we were off to Aswan the next morning! After our 1 hour flight (at 5am), we started touring right away. First stop… the Aswan High Dam.
This outfit was actually my travel-day outfit that I just added some accessories to. Adding the hat, belt bag and sunglasses really made this outfit look unintentionally cool & casual!
Just down the street from the High Dam was the Friendship Symbol which absolutely blew our minds with how stunning the structure was.
Last stop of the day, the Philae Temple!
The whole morning was FULL of touring because we were getting on our cruise (where we'd be the next 3 days) early in the afternoon! The temple was a short boat ride away and we were loving the sun and wind on our faces!
We spent the rest of our first REAL day getting comfortable on the boat and figuring out our plan for the next day (which started EARLY).
Another early start to the day…
Starting at 4:30am we were getting on our bus for the 4 hour drive to Abu Simbel. When we arrived, it honestly took my breath away with how massive this temple was.
We spent around 30 minutes hearing about it's history and then were free to explore on our own! We got to go inside the temple, as well as the smaller temple right by it. Truly incredible!
Naturally instead of taking a nap like everybody else, I put on a cute dress & pretended it was sunny and hot!… but it most definitely was not (lol).
We were sailing to Luxor almost the entire next day but ended up getting off the boat right around sunset! We got to see Karnak Temple & Luxor Temple. I was completely in awe at both of these temples and how grand they were!
Luxor
We didn't have nearly enough time at Karnak Temple, it was MASSIVE and just completely jaw dropping. When you really think about how many thousands of years ago everything was built, you begin to wonder how on earth they managed to do it!
One of the coolest things we got to see in Egypt was the Valley of the Kings. It was basically the burial ground for the pharaohs and powerful nobles of the New Kingdom. They found 63 tombs in the valley that were built from 1538 BC to around 1075 BC. The amount of detail that was put into these tombs… honestly I was speechless.
Besides all of the hieroglyphics, the colors were so well preserved that you could get a pretty good idea of what this looked like way back when. We truly felt like we were transported into a different world.
Later that day we were off the Temple of Hatshepsut…
Hatshepsut Temple is one of the most architecturally stunning structures I've ever seen. Even more incredible, Hatshepsut was one of Egypt's first female Pharaohs!
Once again, we were done with the touring by lunchtime.
The scheduling of our tour seemed a little weird, but nevertheless we were excited to spend some time at the hotel resting. Shorts are from Bella Dahl!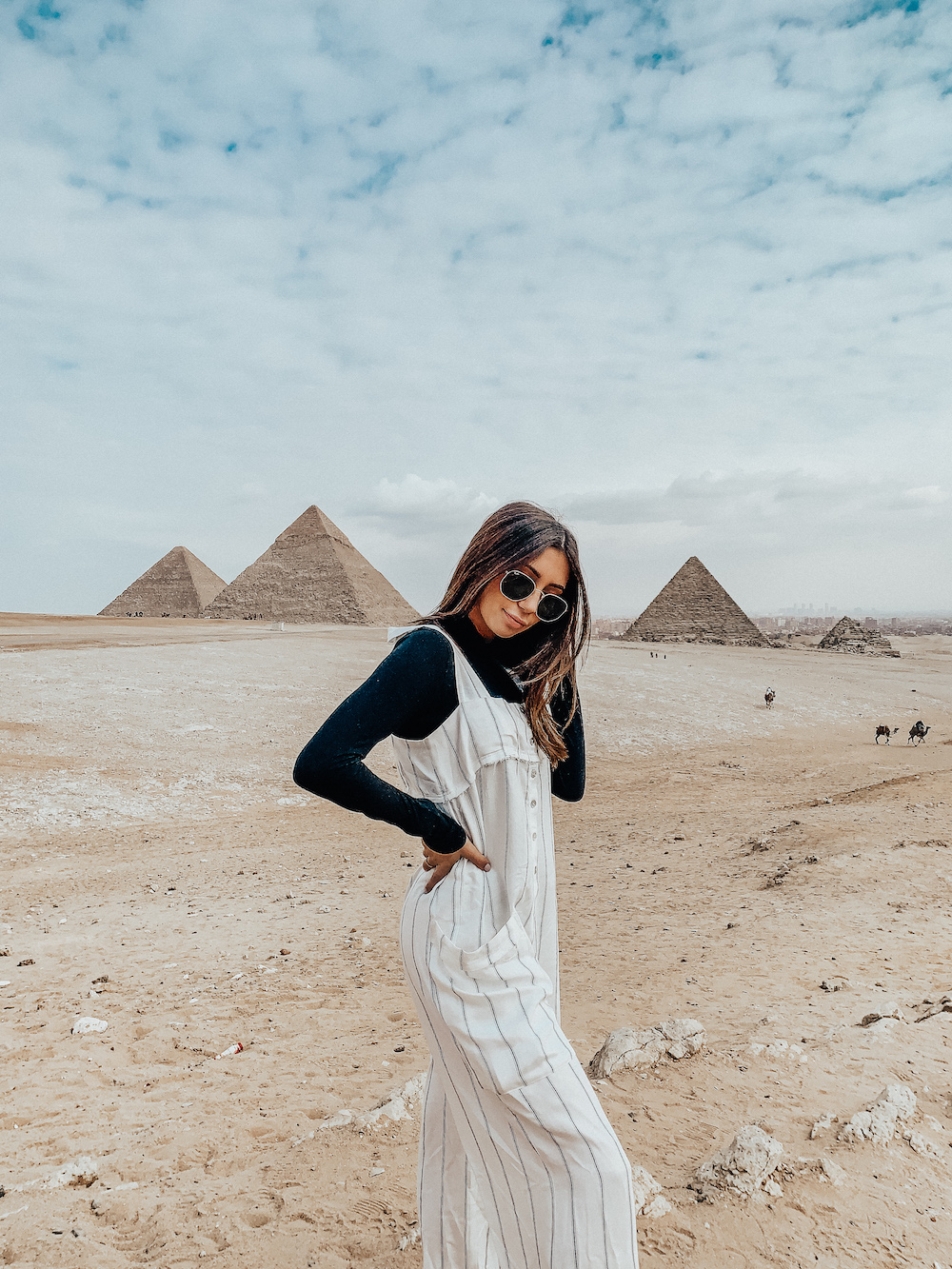 Easily the coolest place I've ever been… The Great Pyramids of Giza
WOW. Never in my life did I ever think I'd have the opportunity to see the great pyramids with my own eyes. Let me just tell you, they're even more incredible in person. Besides getting to see the pyramids, we actually got to RIDE CAMELS by them. If you've never ridden a camel before, it's actually quite scary hahah but still super cool.
The Sphinx
In case you're unaware, The Great Sphinx is a giant 4,500 year old limestone statue right by the Great Pyramids. It's one of the most recognizable statues that's associated with ancient Egypt!
Back to Cairo
Back in Cairo for our last few days which were spent exploring the rest of the city. We got to see the Cairo tower, the Grand Bazaar, the Citadel, etc.
This was one of the most draining, but equally fascinating trips I've ever been on. There's so much ancient history to experience in Egypt and I'm sure there's still a bunch that we didn't have the time to see. I'm beyond thankful for the life I'm living and the fact that I got to experience this with my whole family.
Have you been to Egypt? Would you go? Let me know in the comments!
XO