Shop My Insta: August '17
Shop My Instagram: August 2017
Another month, another Instagram recap! August flew by so quickly that I didn't even get much of a chance to figure out my theme, or even post many pictures at all. The beginning of the month was SLOW on the gram, near the end I attempted a come back… but I guess there's always next month!
Either way, today's post will wrap up of my favorite outfits from August that made it to Instagram!
Make sure you're following me on Instagram (imtaramichelle) to see the pictures as they go up!!!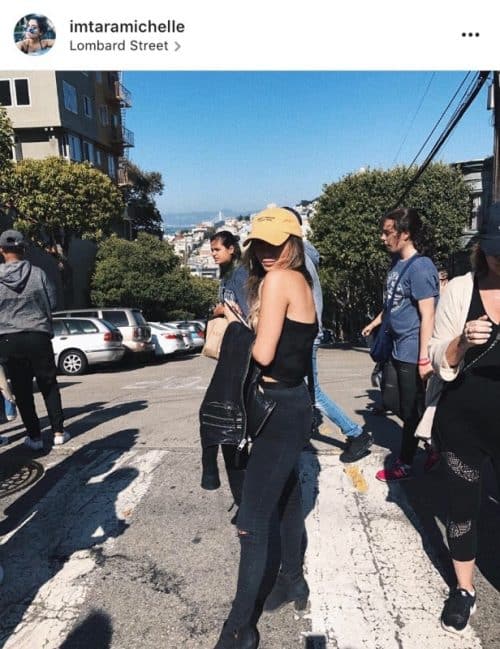 San Francisco, California
Here I am in the middle of a street in San Francisco, you can't tell but I'm in incredible pain from wearing booties all day. This was from my trip to SF in July, but this picture only just made it to the gram now!
Top – Urban Outfitters (similar)
Jacket – Allsaints
Jeans – Urban Outfitters
Shoes – Nordstrom
I've always seen pictures of people at this all white building with all white palm trees and for as long as I've lived in LA, I have wanted to go see it. Honestly it wasn't nearly as cool as people made it look in their pictures. There is a ton of graffiti and it looks pretty dirty (lol), but with a little editing… I made it look just as white as you'd expect it to be!
Pants – Brandy Melville
Top – Urban Outfitters (similar)
Shoes – Nordstrom
Taken on my living room floor… a mirror selfie. Mirror selfies were everything back in the day and I was in the mood for one!! I was 100% procrastinating getting some work done so I just sat down on my floor and started snapping some pictures for the gram!
Top – Urban Outfitters
Jeans – Zara
Phone Case – Amazon
Furry rug on the ground – Amazon
MY NEW LENS IS KILLING THE GAME!! First picture I've posted with my new lens (linked in my 1st weekly favorites post). Besides the camera quality, I'm obsessed with the shorts I'm wearing in this picture. They're pretty much your basic everyday denim shorts with a twist & I'm living for it.
Top – (similar)
Shorts – Peppermayo
Sneakers – Lulu's
Purse – Stella McCartney
This is my first outfit from Europe posted to Instagram & is one of my favorite outfits I've worn in a while! It's unfortunately the last photo that made it to the gram for the month of August but I'm STOKED to share the rest next month!! I think the two pieces look really nice together and it was perfect for the hot European day we had!
Top – Brandy Melville
Skirt – Brandy Melville
(mine is blue & white but I can't find that online!)
Sneakers – Lulu's
And that's what went down on the 'gram in August! I can't believe August 2017 has come to an end… Christmas is only FOUR MONTHS AWAY! HOW!? I hope you guys enjoyed this months recap and are looking forward to the next one! I promise September's Instagram recap will be way more exciting, I can already predict that it's going to be 99% pictures from my trip to Europe! Aka it's about to be lit.
Until next time! xo