Lake Tahoe
Lake Tahoe Fashion Diary | Winter Outfits!
With Los Angeles being in the mid-80's the last month, we decided to take a quick trip over to Lake Tahoe for some actual winter vibes!
I'd never been before but it looked absolutely beautiful. What's really cool about this lake is that it's actually in both California and Nevada, you can literally walk over the border & decide which state you want to be in! So we got everything together and prepared for our 8 hour drive!
I made many outfit changes in our few days visiting and put together my little fashion diary for today's post!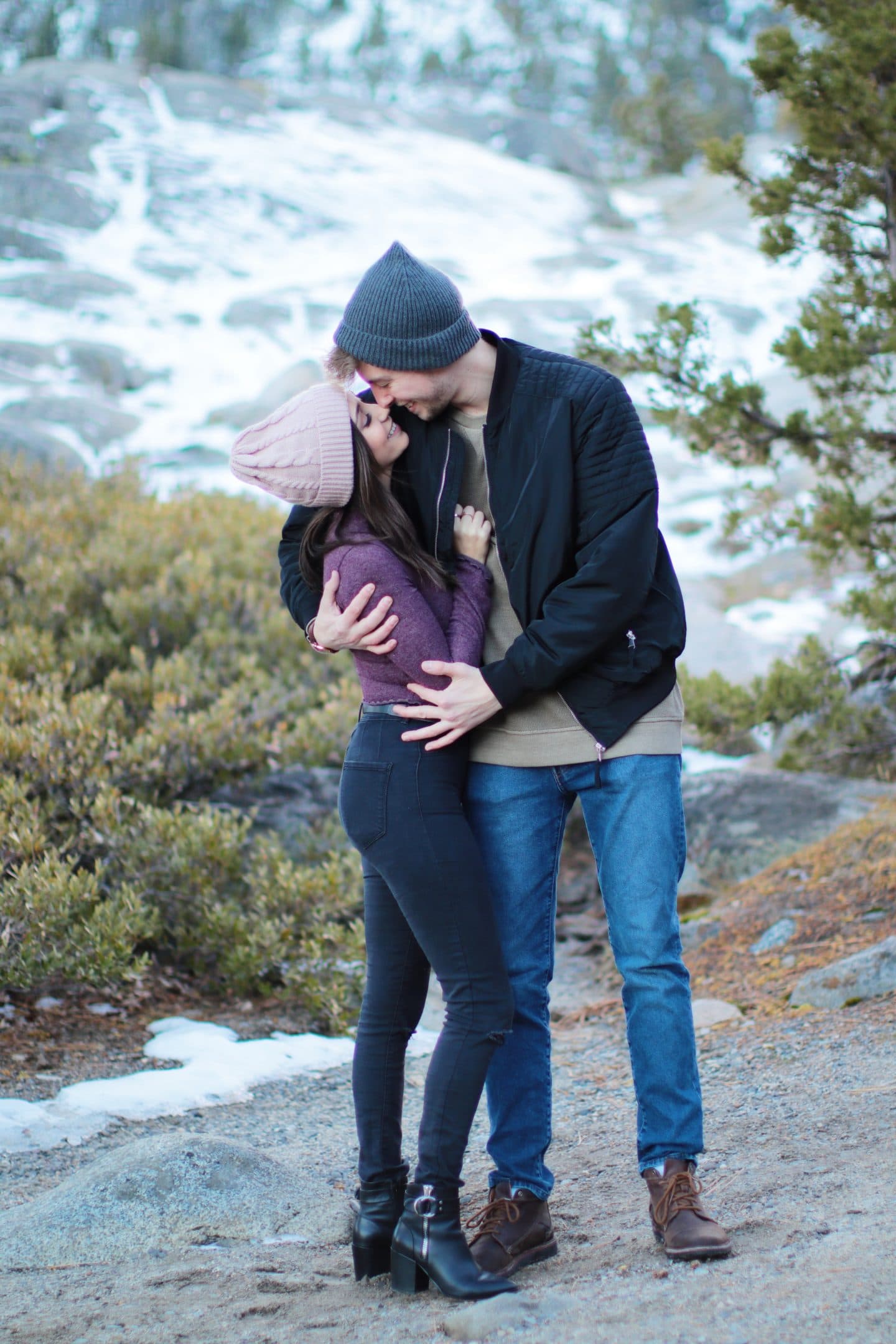 My boots were also a mistake. Absolutely adorable but not very well suited for climbing mountains of snow…
My first outfit for our Lake Tahoe trip! I went for something pretty simple for exploring around Emerald Bay.
Long Sleeve – Urban Outfitters
Jeans – Urban Outfitters
Boots – Steve Madden
Hat – Forever 21 (similar)
Belt – Forever 21 (similar)
I will admit that I was freezing in this outfit but for climates that have a more mild winter (like Los Angeles), this would be perfect! It was our first adventure and I clearly underestimated how cold it would be.
After we left Emerald Bay I made an outfit change to hopefully help me deal with the cold climate. This one wasn't perfect for the temperature either, but it's still cute as heck (and an improvement for the cold).
The sun had set and we were on the way back to our hotel but we saw a cool path on the side of the road that we just needed to stop at!
Sweater | Jeans | Belt (similar) | Boots
I absolutely love this sweater from Forever 21, it's SO soft and I love the distressed details. I'm also a huge fan of a purely black & white outfit, it's just so classic and easy.
Day Two
Oh how I love my outfits from the second day in Lake Tahoe! It was a little warmer this day and I was definitely dressed more appropriately for what we had going on.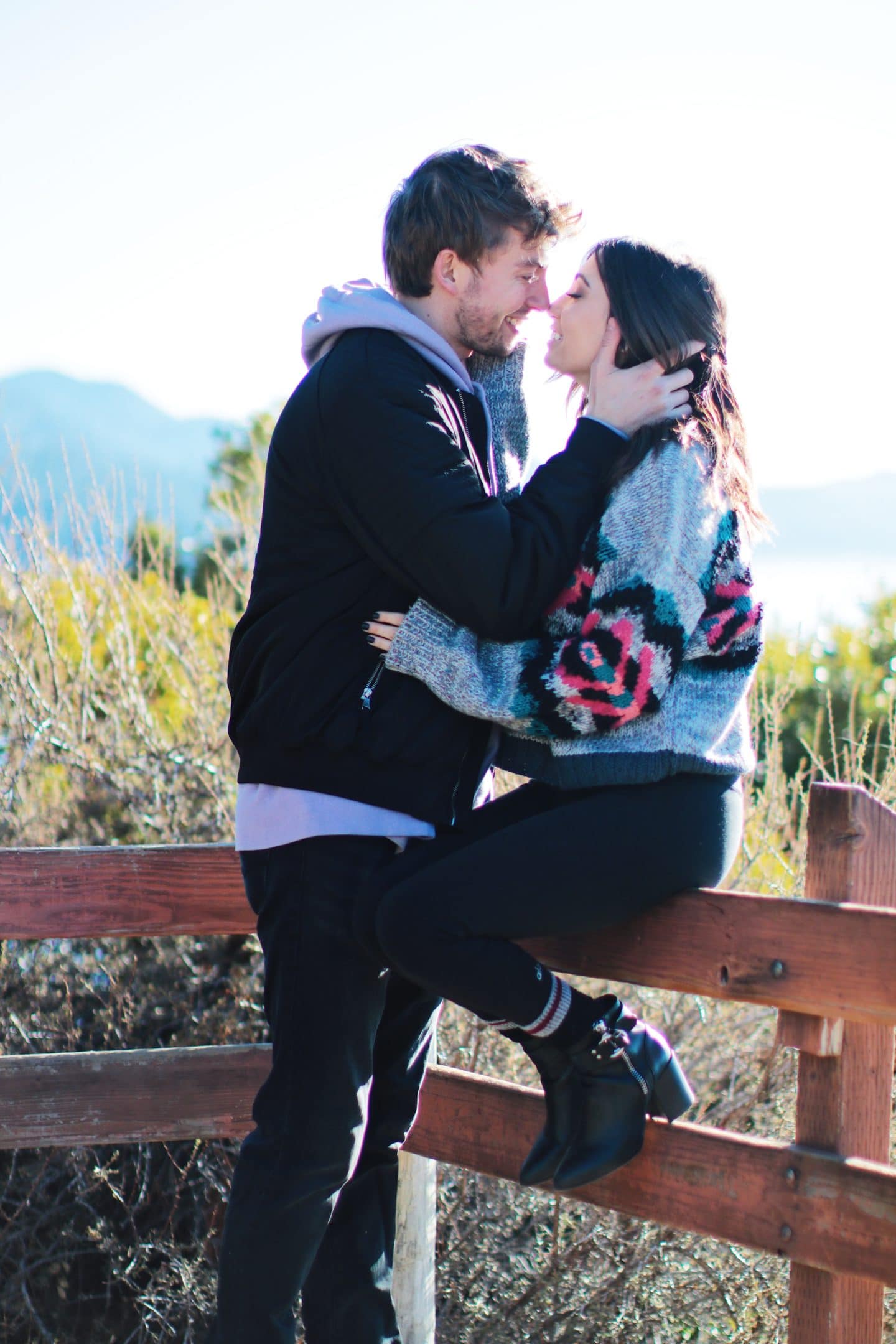 In case you're wondering by now about the pictures with my boyfriend.. yeah, we used a tripod. It was life changing. Highly recommend, 10/10.
Love love love this outfit, or actually, this Free People sweater! It's clearly the main focus and I bought it specifically for this trip. I found it at Nordstrom and it was 30% off so I had to snag it for the winter/Tahoe vibes! Now it's actually 40% off so GET IT WHILE YOU CAN!!
Sweater – Free People
Leggings – Alo
Boots – Steve Madden
Socks – Forever 21 (Similar)
These photos are taken at Sand Harbor, they had a path on the beach that led to Bonsai Rock and it absolutely blew our minds. The water was so unbelievably clear, I couldn't believe it!
After leaving Sand Harbor we were driving around and found a super snowy area so we decided to pull over. In case you can't tell by now, we really enjoy spontaneous stops. We made another outfit change and this next one is one of my favorite winter outfits!
I love this because of how easy it is. You should know by now that I like outfits that are simple but stylish and I think this outfit fits that description! The oversized sweater is incredibly comfy (I got a size small) and you can never go wrong with a good pair of leggings!
Sweater (not online, linked similar!) | Leggings | Boots | Sunglasses
One last outfit change for our last night in Lake Tahoe! Our hotel, BaseCamp South Tahoe, recommended Lakeside Beach for a beautiful sunset location so we went to check it out. It did not disappoint!
It was a regular beach (which I'm sure is crowded during the summer) with picnic benches and we even found a swing set! When theres a swing set, you just have to take advantage. Really makes you feel like a kid again!
Easily one of the best winter outfits of all time. LOOK AT MY COAT. I magically transformed into a fluffy teddy bear and I definitely attracted more hugs than normal. The main focus here is clearly the jacket, and it's an absolute essential this winter. I've seen so many other bloggers wearing this similar 'teddy bear' style and it's easy to see why!
Jacket (another similar) | Shirt | Jeans | Boots | Sunglasses
Day Three
Our last day in Lake Tahoe! We checked out of our hotel around 1pm and began our drive back to Los Angeles. The Yosemite National Forest was somewhat on the way so we took the little detour in hopes to get there for sunset! We were almost there but ended up having to pull over to watch the sunset elsewhere because we wouldn't make it there before dark. Either way, the view was to die for.
This was truly the perfect way to end the trip! Such a stunning view at my favorite time of day!
This outfit ended up being my road trip outfit as well, a whole 10 hours in the car wearing this and I wasn't uncomfortable at all! I've actually worn this so much in the last few weeks, you've probably seen it on Instagram quite a few times at this point.
Sweater – Lulu's
Leggings – Alo
Boots – Steve Madden
We stopped at "The Edge Of The World", or at least that's what the sign said. We just sat watching the sunset until it was dark and it was another 6 hours back to LA from there…
That was it for my Lake Tahoe trip! Did you like my winter outfits? I always love a good fashion diary! What was your favorite outfit?! We had such an amazing trip with LOTS of food and fun! We also really enjoyed our hotel at BaseCamp, would highly recommend to anyone going to visit.
I took a brief pause from this blog but I'm happy to be back! Thank you to those of you who stuck around!